It has never been a better time to try something new in the kitchen – amateur cook or home pro-chef, Sirimon Cheese brings you recipes you can create, on a budget. All made using the versatile Everyday Cheese which works to add that burst of flavour to any meal.
1. BEEF & CHEESE CASSEROLE (Feeds 4)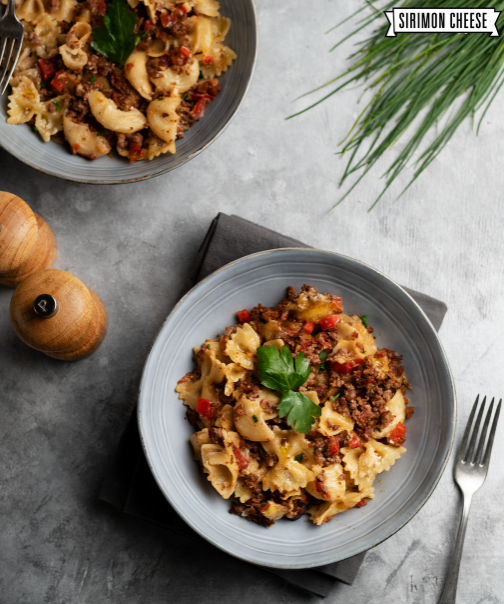 Ingredients
2 tbsps sunflower oil 1 1/2 tsps salt
1 red onion 1 tsp black pepper
3 cloves garlic, minced 1 tbsp homemade chilli salsa sauce
1 red bell pepper 250gms pasta
5 tomatoes, chopped 200ml sour cream
1 tsp oregano 250gms shredded Everyday Sirimon
Garlic powder Cheese – 1 tsp
Chives, chopped 400gms grounded beef – 1 tbsp
Method
1.) Heat the oil in a pan. Cook the onions and garlic till fragrant. Add the chives, tomatoes, marinara and red bell pepper. Add the ground beef and spices. Cook till the meat turns brown.
2.) Boil the pasta till tender. Toss with the sour cream.
3.) Layer the pasta onto a baking dish and spread the beef mixture over it. Top it off with shredded Everyday Cheese.
4.) Bake in a pre-heated oven for 25 mins at 200 degrees Celsius.
5.) Remove from oven. Decorate with chopped parsley (optional) and serve warm. Enjoy!
2. BEAN & CHEESE BURRITO (Feeds 2) with Sirimon Cheese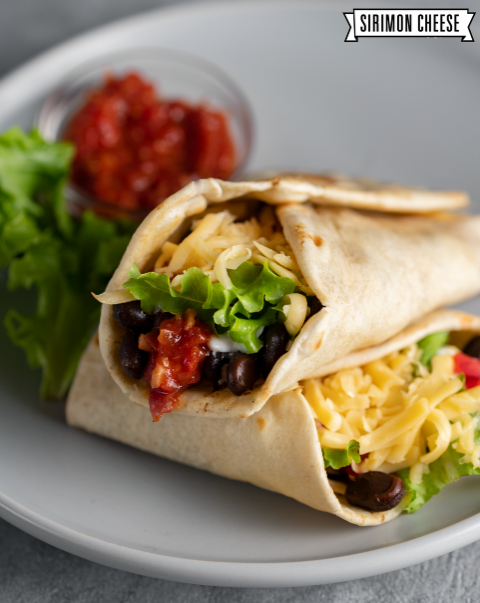 Ingredients
2 tbsps sunflower oil homemade chilli salsa
1 red onion 1 tbsp mayonnaise
3 cloves garlic 250gms shredded Sirimon Everyday
1 red bell pepper, chopped Cheese
Paprika Homemade flour tortillas – 1 tsp
Garlic powder 1/2 cup water 1 tsp
1 tsp salt 2 cups black beans, cooked
1/2 tsp black pepper Lettuce leaves
To make the flour tortillas, you'll need:
2 cups all-purpose flour
1/2 teaspoon salt
3/4 cup water
3 tablespoons olive oil
How to make the flour tortillas:
1.) In a large bowl, combine flour and salt. Stir in water and oil. Turn onto a floured surface; knead 10-12 times, adding a little flour or water if needed to achieve a smooth dough. Let rest for 10 minutes. Cover with a kitchen cloth.
2.) Divide dough into 8 portions. On a lightly floured surface, roll each portion into a 7-inch circle.
3.) In a greased cast-iron or other heavy skillet, cook tortillas over medium heat until lightly browned, 1 minute on each side. Keep warm.
Method
1.) Heat the oil in a pan. Cook the onions and garlic till fragrant. Add cooked black beans, water and spices. Simmer for 5 minutes to reduce the water. Remove from fire.
2.) To assemble the burrito, place the cooked black beans, red bell pepper, lettuce, chilli salsa, mayonnaise and shredded Everyday Cheese on the flour tortilla. Fold to form a wrap. Enjoy!
Thanks for reading! Sirimon Cheese now delivers straight to your home. See the website for more details or call 0708 822382 or 0746 150086 for more info.
Read places to eat pancakes.