Four Points by Sheraton in Hurlingham is conveniently located off Argwings Kodhek Road. Pablo's, "an eatery inspired by a man and his passion for original recipes across the globe" invited me for a Blogger's lunch. The restaurant is located right on the ground floor of the four-star hotel and has an indoor and outdoor seating area. The ambience is very serene, considering it is located on one of the busiest roads in Nairobi. The restaurant also has the signature Four Points chairs, which are very comfortable.
The restaurant manager presented the new menus to us and we randomly picked our individual ones. Each menu consisted of a three-course meal with very diverse flavours.
Starter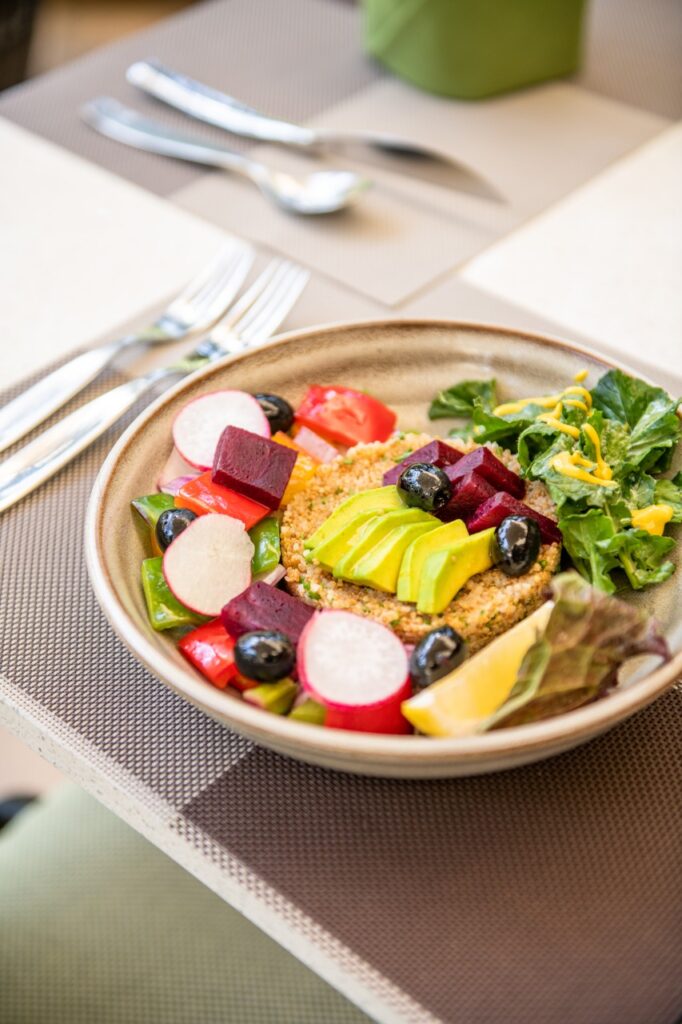 I landed on Menu 2 which was quite broad. My starter, Vegan Symphony consisted of avocado, a medley of zucchini, bell peppers, red onions, celery and beetroot with steamed quinoa [keen.waa] and vinaigrette. A very healthy plate! I'm not one to reach out for vegan options but this was beautifully put together. The quinoa was perfectly steamed and it paired well with the avocado. I also tasted Pablo's Salad from Menu 4 which consisted of a mélange of crisp lettuce, avocado chunks, citrus segments and parmesan shavings. The salad was definitely fresh since the vegetables were crispy and the ham tender. Additionally, there was also a Pit Stop besides our dining area that consisted of mini-chicken wraps, nachos with guacamole, mini-sandwiches and cheese platters, yum! The chicken wraps easily stood out, quite spicy but very tasty! The flavours of the cheese (parmesan, cheddar) were well balanced which signalled their high quality.
Main Course
My main course, Sumatra Fried Rice; a dish from Indonesia, was easily my favourite meal from the lunch. It consisted of seafood fried rice, chicken skewers, fried eggs and kejap manis. The rice which had tasty shrimp pieces was a spicy surprise. Very scrumptious! Likewise, the sunny-side-up egg and chicken skewers complemented and balanced the rice beautifully. I definitely have to eat this again! Additionally, I tasted Samaki ya Pablo, a whole tilapia crisp-fried and served with potato wedges, homemade chilli sauce and local salad. What a feast! The homemade chilli sauce paired very well with the fish and was really well made.
Dessert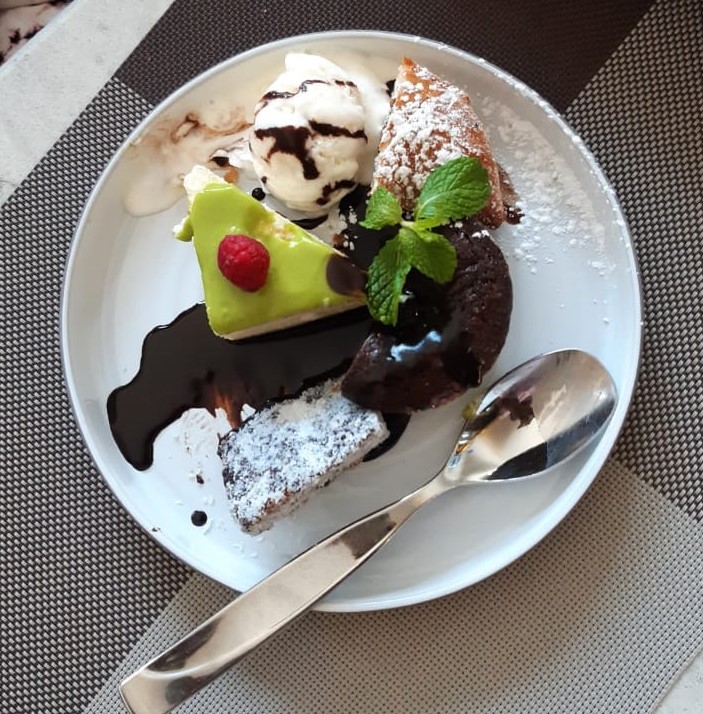 I have to start with The Happiness Platter from menu 4, although it wasn't on my menu, it was the perfect end to a very delicious afternoon. The platter, an assortment of pastries from Pablo's signature menu paired up with vanilla ice-cream, definitely made me happy. My favourite was the cake with chocolate explosion. That burst of chocolate was iconic, for all the sweet teeth people out there, you have to try this! In contrast, my menu had the Lavington Lamington desert, a decadent layered chocolate cake with coconut and berries. This was delicious although I wish it could have been a little moist on the inside.
Drinks
Earlier on, we were welcomed with a fruity sangria which was very refreshing considering how hot it was that day. We had our meals with red and white wine which were exquisite, although I didn't take down their respective names.
Final Thoughts
In summary, Pablo's is conveniently located, an elegant, peaceful place to escape the bustling city and endless traffic jams. Furthermore, the menu is international and very diverse. I thoroughly enjoyed every single meal. The plating and the flavours of the food, clearly prove attention to detail is in the repertoire. What would you eat from the menus above? Read about my experience at the Marketplace in Four Points at JKIA.