Fourpoints by Sheraton at JKIA is a four-star hotel located right at the airport next to the Port Authorities. I was invited for a Blogger's lunch at The Marketplace, which is an all-day dining restaurant offering a selection of local and international cuisines right on the ground floor of the hotel. It consists of an indoor and outdoor space with sufficient natural lighting which makes the place airy. The ambience is peaceful but very elegant with neutral tones and comfortable chairs which give the place an air of exclusivity.
I was lucky to be among the first to taste the new menu presented to us by the head chef. There were 8 meals available and we played a ruffle to choose our individual menus. The menus consisted of three-course meals from local Kenyan dishes such as Nyama Choma to international cuisines such as Yam Talay as well as a vegetarian and vegan option.
Starter
I landed on menu 2 which was seafood themed. First on my menu was Yam Talay, a bowl of crunchy vegetables, spicy shrimp and calamari with toasted peanuts, yum! The portions were just right, the vegetables were definitely fresh since they were very crunchy, the shrimp and calamari very tasty and the food was not that spicy, considering I love spicy food.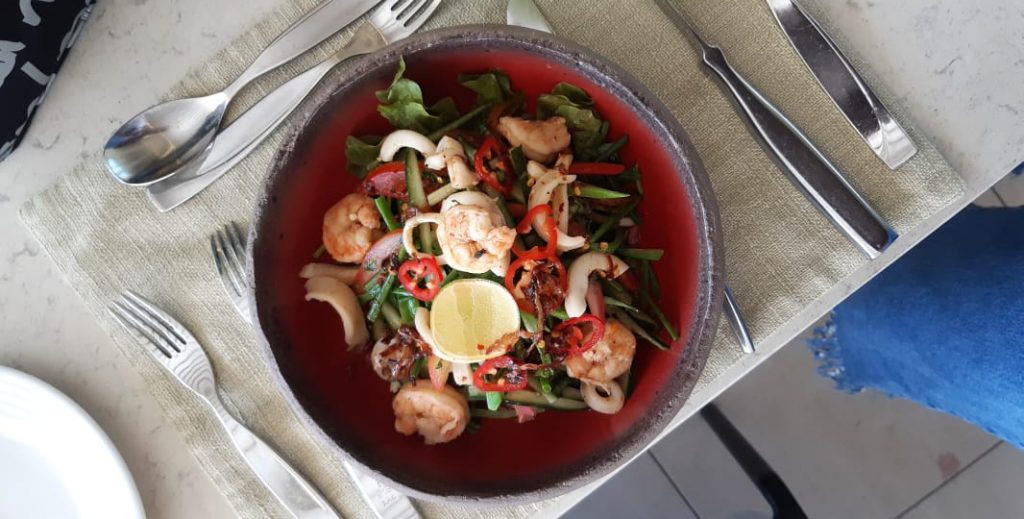 I also had the chance to taste the sweet corn and chicken soup from menu 3 which was the best comfort food I've tasted in a while. Additionally, I tasted Thai Chilli Prawns and Calamari from menu 6. Which consisted of Wok-fried prawns and calamari with special oriental sauce and fresh basil. This was easily the winner of the starters. The prawns and calamari were very spicy but full of flavour. Furthermore, we had a cheese platter and Beiruti pizza which we shared amongst ourselves. The Beiruti pizza, Lebanese mince flatbread was the most flavorful of all dishes. Filled with an assortment of spices such as oregano and cumin, it was a treat to my tastebuds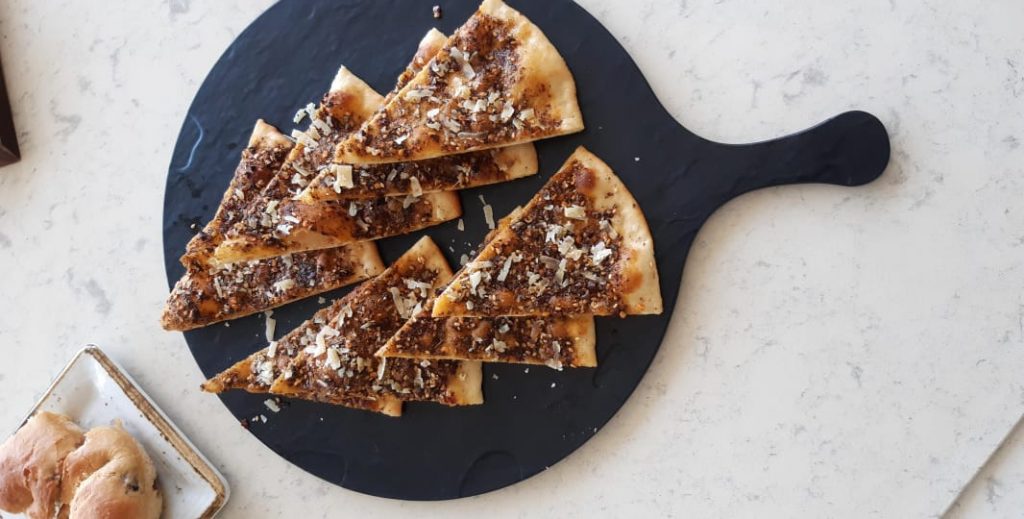 Main Course
My main course was Za'atar Crusted Salmon, a sesame and spice-crusted salmon with cucumber and dill salad with mashed potatoes. This was my favourite meal of the day. The salmon was easily the king of the meal, it was medium done, crunchy on the outside and soft on the inside and very scrumptious. It paired well with mashed potatoes and the cucumber dill salad.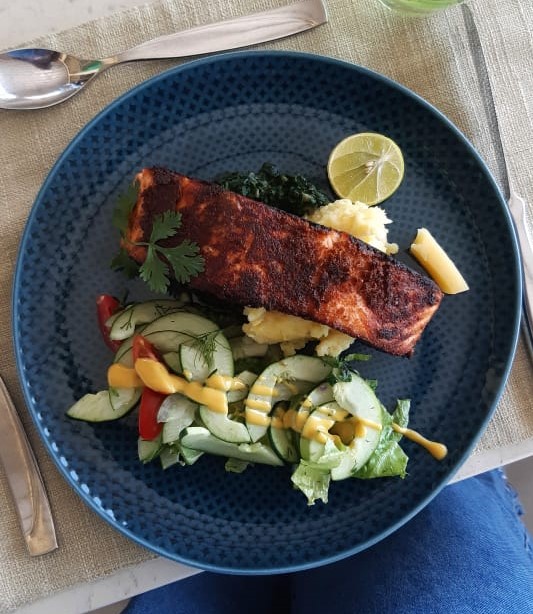 Dessert
My dessert was Warm Apple Crumble, a classic apple and cinnamon pie with sugar-free vanilla ice cream that was just as delicious as it sounds. The pie was well balanced, not too sweet not too cinnamon. I also had a chance to taste the Kulfi Falooda, cardamom ice cream, rose syrup, glass noodles, chia seeds and toasted nuts. I enjoyed it, although it can be a little too sweet if you are not a sweet tooth.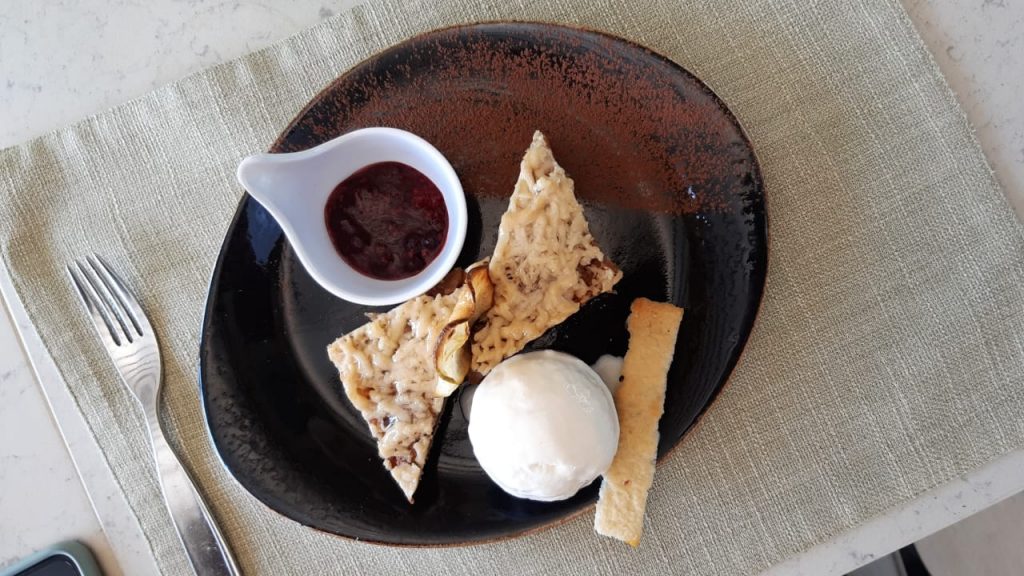 The staff were very attentive and helpful. They did not tire of questions about their unique menu and they were always ready to serve us. There was a slight confusion of my order but it's all good since I got to taste a variety of items from the different menus.
Drinks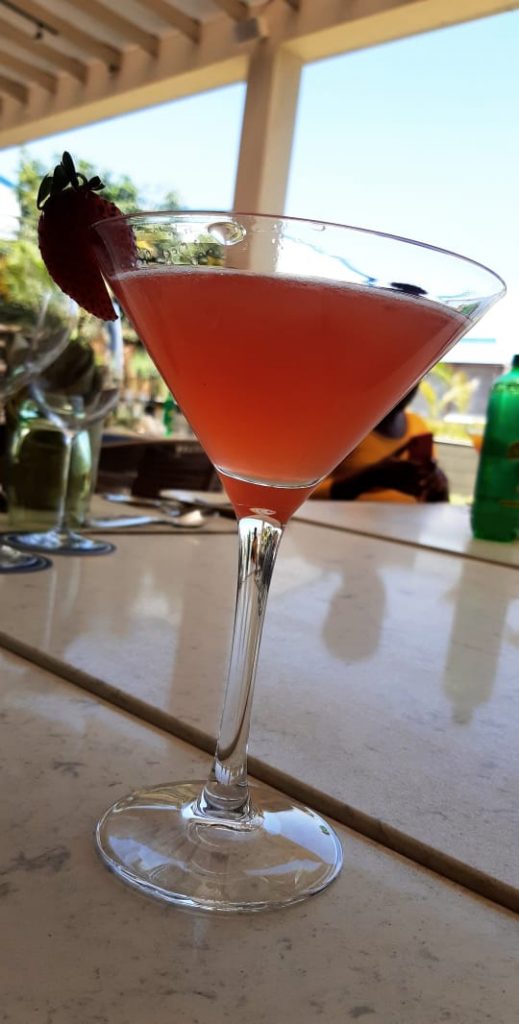 The Marketplace also has an elaborate drinks menu ranging from milkshakes and mocktails to whisky and wines from all over the world. I had the Summer Splash Mocktail when I arrived, a strawberry, lime juice, ginger juice and Stoney drink. Very refreshing and they only go for Ksh 500. I also had a glass of B & G Reserve Pinot Noir from France alongside my food, which was exquisite.
The Marketplace new menu is very diverse. There's definitely something for everyone. If you are looking for an elegant ambience away from the bustling city, then this is the place for you. Looking for a fine dining experience within the city? Read my review of Pablo's at Four Points by Sheraton in Hurlingham.
All pictures are taken by Nicky Saw